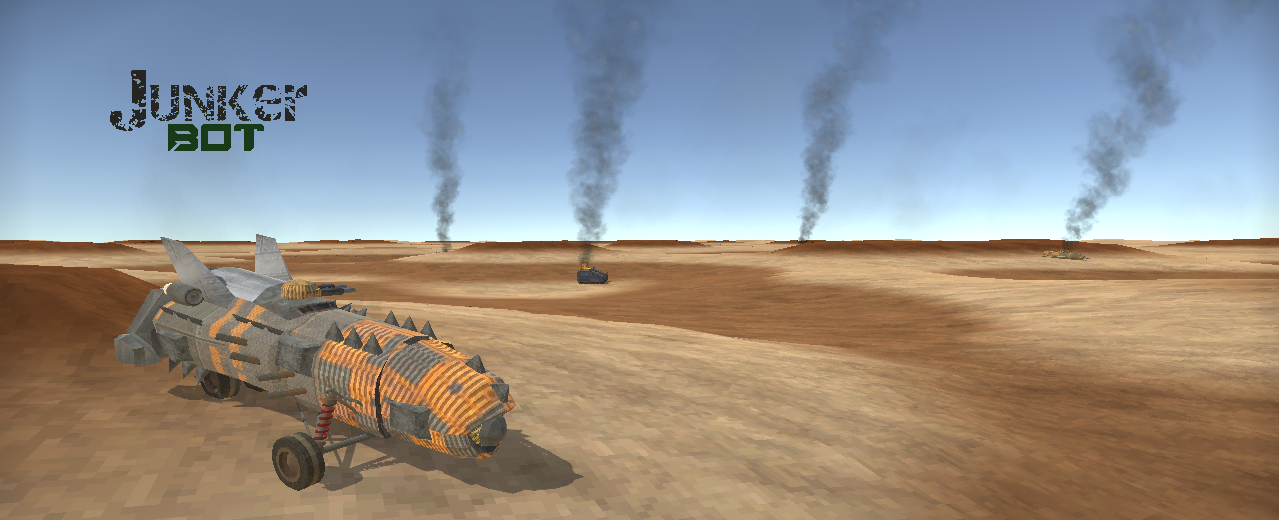 JunkerBot
A downloadable game for Windows
JunkerBot is a solo-developed Single-player Car Combat game, where you destroy, recycle, and replicate vehicles, use resources to upgrade your base and DECONTAMINATE!
Main Features:
3D skillful Car Combat where every vehicle is unique in some way.
Explore from a top-down perspective, a desert filled with enemy bases to destroy, mining outposts to take advantage of, and dangerous convoys.
8 upgradeable faction based vehicles to unlock and 9 unique/secret cars too.
Simple base building mechanics to manage your vehicles and unlock useful stuff like a deployable suicidal explosive RC car!
A backstory to unravel, and give context to the world. (not yet, I'm working on this)
Online Coop challenges to unlock and play with a friend, or alone if you want a real challenge.
Multiple-barreled mortar turrets and Land Torpedoes!
I've included a small demo that generates encounters randomly, a taste of the game's combat system.
Latest change log:
v0.7

new: camera control with joystick.
new: auto-aim feature for main guns (AC & BG).
new: game session code for players to join without sharing IPs.
Limited turrets now pre-turn properly.

v0.6

remade the entire bullets system, their hit detection is almost perfect now, they move faster and and are more predictable.
fixed torpedo movement, in the previous version they started to act weird being launched in weird directions and whatnot.
fixed train encounter.
For more Info:

Download
Click download now to get access to the following files: